Birdie
It's Birdie time. Welcome to the flock! We hope your little ones love their new ride. Don't forget to share in-flight photos by tagging @Bird on Instagram. #BirdieLife
GET TO KNOW BIRDIE
Birdie is partially assembled already, so you'll only need to do a few things to get your kiddo flying. Check out the following diagram to make sure you have all the materials required for assembly.
ASSEMBLY
Position the T-bar above the hole on the footboard. Make sure to align the T-bar latch with the notch in the hole. Depress the latch and slide the T-bar into the hole. You should hear a click when the T-bar locks into place. Confirm the T-bar is secure by flipping the Birdie over and check that the latch is visible underneath the footboard hole. Before allowing your child to ride, make sure the neck, wheels, and frame of the Birdie are fully secure and all screws are tight.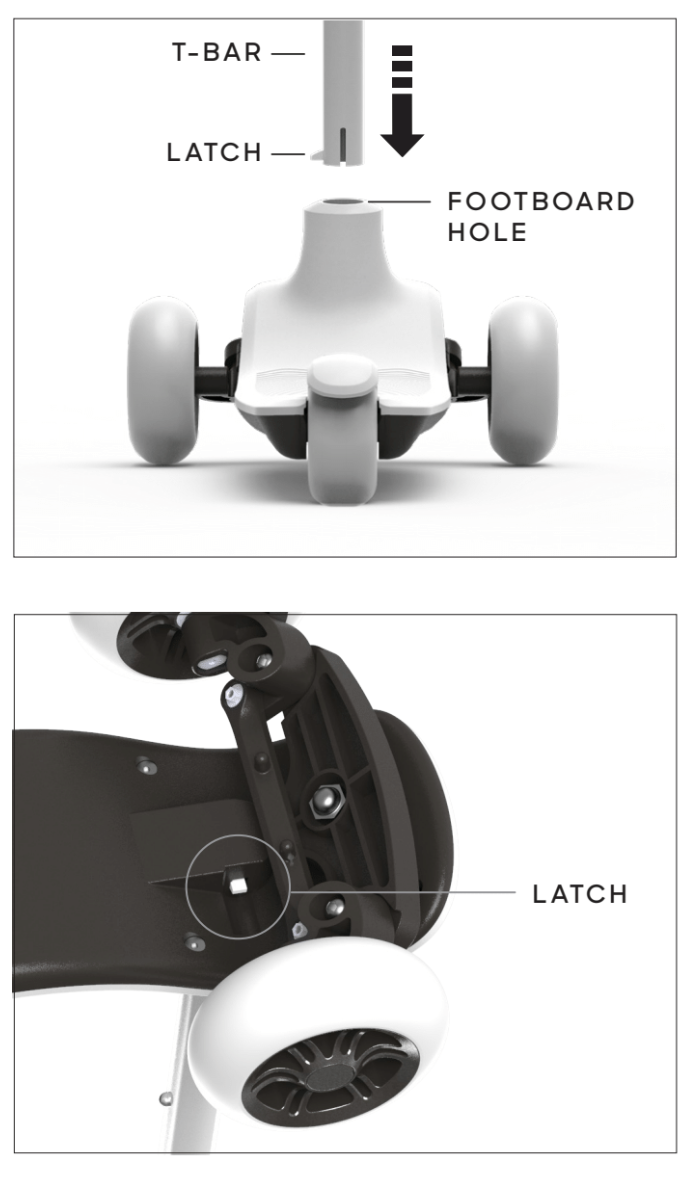 ADJUSTING HEIGHT
Twist the T-bar lock counter-clockwise. Then press the T-bar button, move the handlebar to desired height, and twist the lock clockwise until tight. Make sure the height of the handlebar is at or below the top adjustment hole.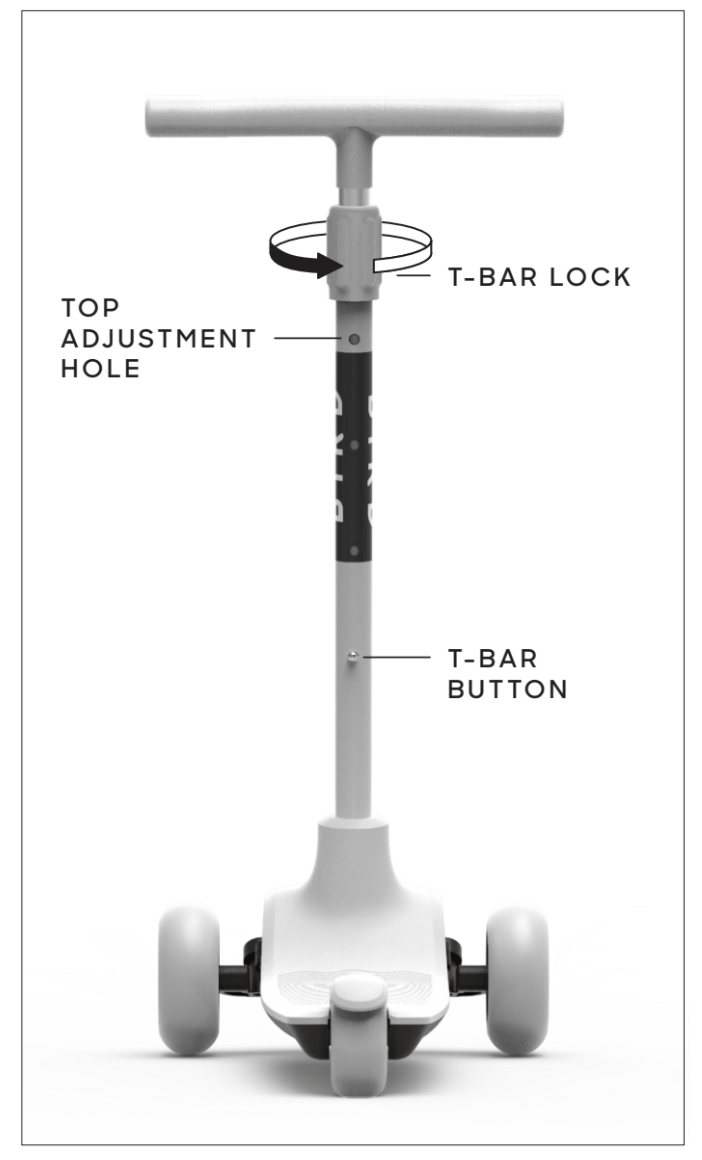 REMOVING HANDLEBAR
Flip the Birdie over so the bottom of the footboard is visible. Depress the latch near the footboard hole, then pull the T-bar to remove.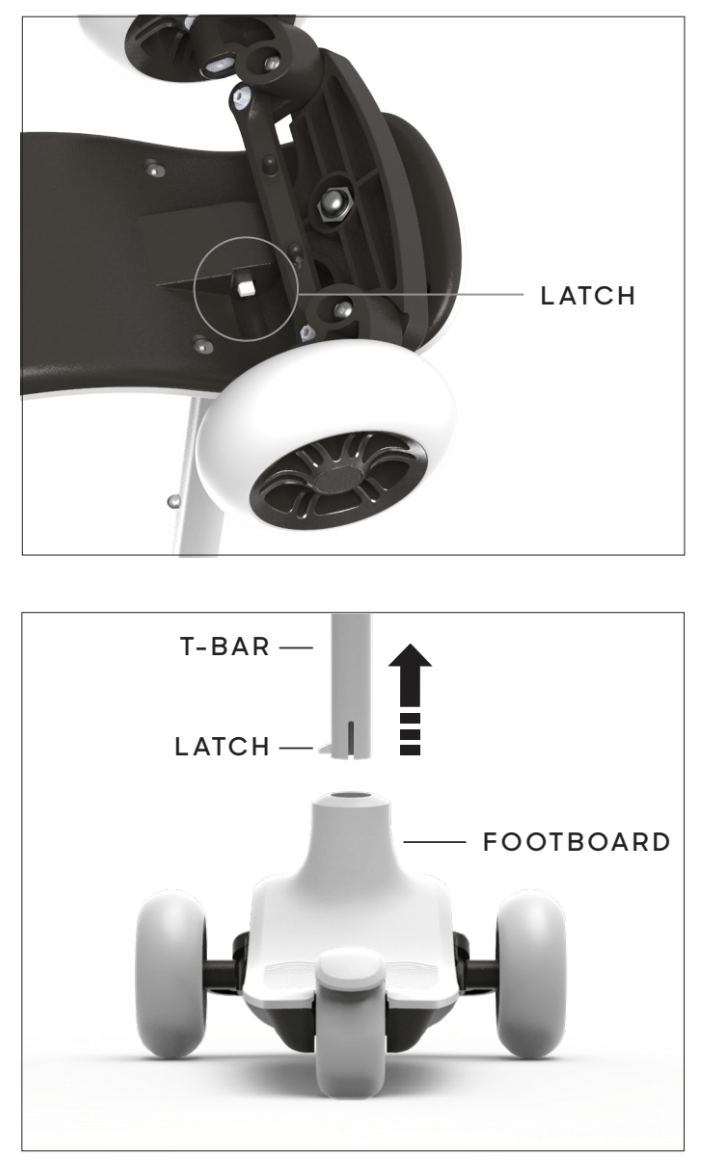 RIDE SAFETY INSTRUCTIONS AND WARNINGS
This is a toy and is suitable for ages 3+, with a maximum weight of 110 lbs (49 kg).

Check and secure all fasteners before every ride.

Any modifications to Birdie will result in warranty expiration.

Metal parts may corrode over time, especially if exposed to moisture outside.

Contains small parts while unassembled; adult assembly required.

Protective equipment must be worn when riding. This includes a helmet, shoes with rubber soles, and wrist, elbow, and knee pads.

Help your child feel comfortable by practicing first to gain control of the vehicle. Always ride with caution to avoid falls or collisions.

Ride on smooth, paved surfaces away from motor vehicles. Avoid sharp bumps, drainage grates, and sudden surface changes. Scooter may suddenly stop.

Ensure your child does not ride down any steep hills or exceed speeds of 3 mph.

Avoid roads, paths, or places with motor vehicle traffic. Follow local traffic rules and regulations. Watch out for pedestrians.

One child per Birdie when riding, please.

Never allow your child to ride at night.

Keep weather and terrain in mind. Do not ride on sandy, rough, icy, wet, or uneven surfaces.

Replace worn or broken parts immediately.

Brake will get hot from continuous use. Do not touch after braking.

Adults must assist children in the initial adjustment procedures to unfold scooter, adjust handlebar and steering to height, and finally to fold scooter.