Your Bird Air Experience
It's official: This Bird Air is yours. Thank you for choosing an electric ride to cruise past traffic and reduce carbon emissions. As part of the flock, every ride you take truly makes a difference. Now let's get you up and flying. Also, scroll to the bottom of this article to download a full PDF of the Bird Air manual.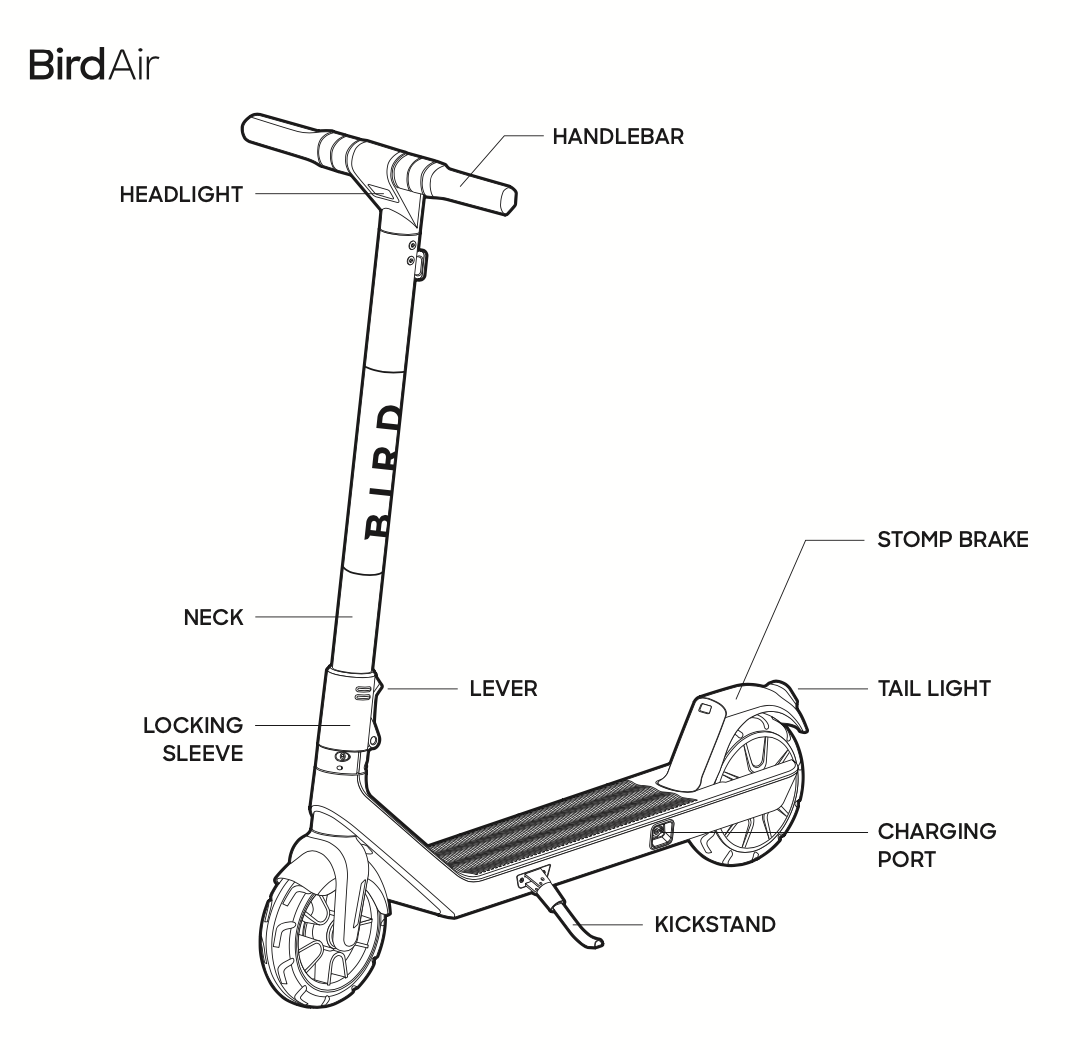 Let's ride
Once your Bird One is fully charged, you can unplug it and start your first ride.
For your safety, always wear a helmet while riding. Also, be sure to inspect the Stomp Brake to make sure it's fully functional as well as the vehicle frame and neck for any cracks or wear before riding.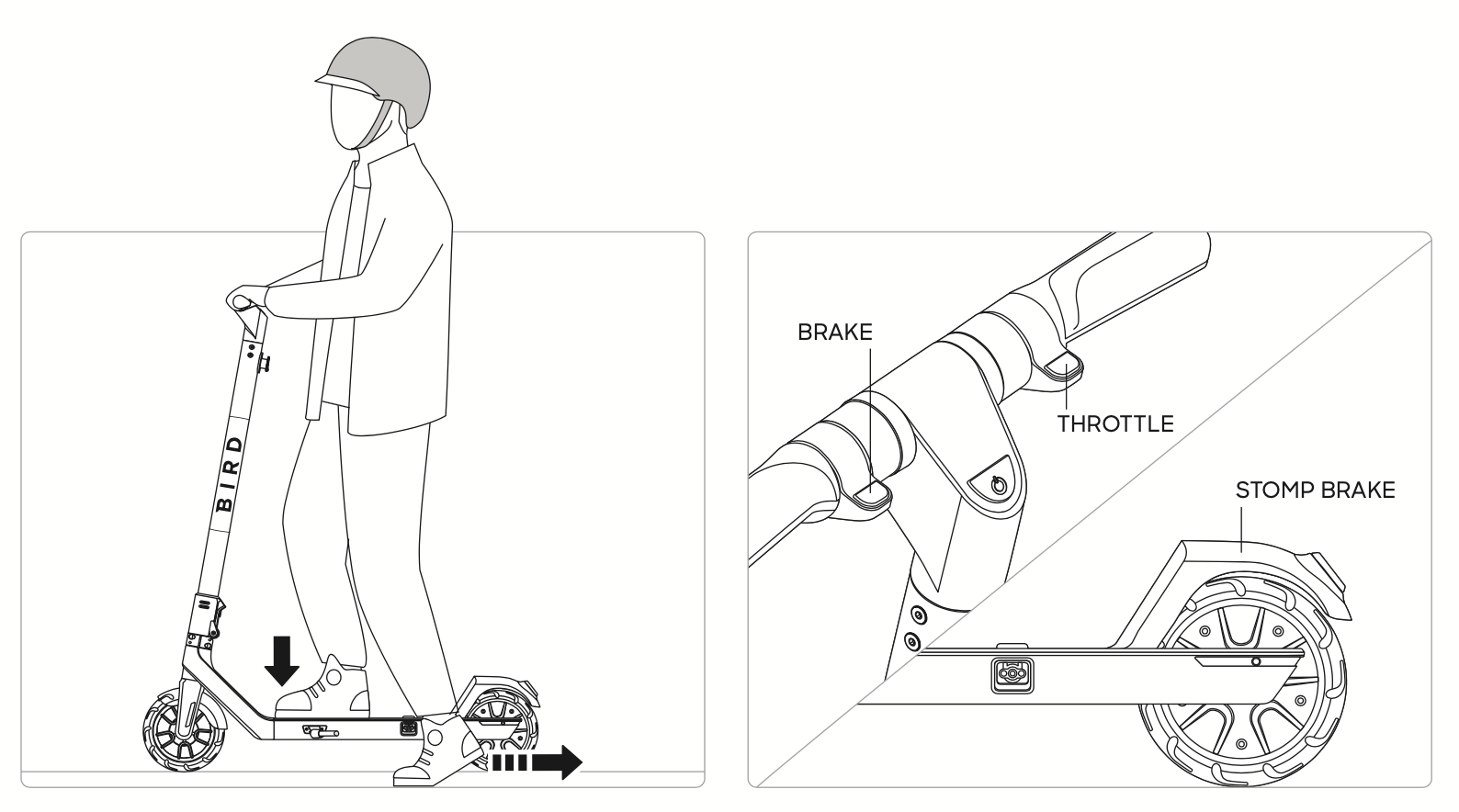 Starting and Stopping
Place one foot on the footboard and kick with the other to propel forward. Hold down the Accelerator (right thumb throttle) to go faster (up to 16 mph). Use the Stomp Brake on the back wheel to decelerate or stop the vehicle. Additionally, it is possible to use the left handlebar as a brake for the vehicle.
Where to Ride
We recommend riding in bike lanes or close to the curb in the street. It's important to note there are locations that do not permit e-scooter riding or parking; please always follow local rules and laws. Avoid sharp bumps, drainage grates, and sudden surface changes.
After you Ride
Once you're done riding, you can park and turn off your Bird by holding the power button for 2 seconds. This will turn off the dash display as well as the light. Also, once your Bird is turned off be sure to charge it via the Charger Port to ensure it's always ready to ride when you need it.
Maintaining Your Bird One
No zeros

: Prevent delays by keeping your Bird charged.

Clear Skies:

Avoid riding your Bird during and after wet or extreme weather conditions (rain, snow, etc.).

The art of Bird maintenance: Examine the following Bird parts before every ride to keep your Bird in great shape. As always, we're here to help should an issue arise. Please email us at hello@bird.co if you have any questions about your Bird maintenance.

Brakes:

The Stomp Brake shouldn't be resting on the back wheel when in a resting position. Test it by stepping on it while rolling forward to verify that it stops the wheel when pressed and springs up when released. Also test out the brake on the handlebar at a low speed to make sure it slows the Bird properly.

Tires:

Make sure the tires are in good condition and still have sufficient tread.

Steering: Move the handlebars back and forth to check that the steering is tight. Also rotate the handlebars to the left and right to make sure the steering is smooth and doesn't bind or stick in any way.
Neck: Make sure the neck sleeve has no visible cracks and the lever clicks in place upon unfolding.

Gimme shelter

: If you leave your Bird outside, keep it dry by placing it under a cover. Take your Bird inside in case of extreme weather conditions and temperatures.

Keep it clean:

If your Bird gets dirty from rough terrain or heavy use, just give it a quick wipedown.

Use a

soft, wet cloth

for basic cleaning.

Use a

toothbrush

for scrubbing.

Do not use

corrosive cleaning chemicals that may damage your Bird. These include:
Troubleshooting
Can I still ride my Bird where other shared Birds aren't permitted?

Yes, but we recommend riding in permitted locations whenever possible.
Something broke on my Bird!

As a Bird One owner, you have prioritized customer support. Contact the support team at hello@bird.co to begin the repair process.
My Bird got wet and it doesn't work anymore.

Don't panic! Let the Bird dry for at least an hour before trying again. If it still doesn't work, contact our support team.





My Bird is plugged in, but won't charge.

If your battery isn't charging up right away (LED on power supply is still showing green and not red), it may be due to a safety feature that allows the battery to cool before starting to charge. As it cools off, you can leave it plugged in - just give it 30-60 minutes to cool off and then check again.
In cases where the troubleshooting solutions do not fix the issue, contact the support team at hello@bird.co.
Bird Air Specifications


Warnings
Stay safe by heeding these warnings and disclaimers so there are no surprises while you're riding.
To Avoid Serious Injury:
The manufacturer recommends riders be 16+ years old. Read and understand all safety warnings listed on the product label, located on the left side of the scooter deck. Always follow these safety instructions.
People who should NOT ride the Bird Air include:

Anyone under the influence of alcohol or drugs.

Those with heart conditions, pregnant women, or persons with head, back, or neck ailments that limit their ability to ride safely.

Persons with any mental or physical conditions that may make them susceptible to injury or impair their physical dexterity or mental capabilities to recognize, understand, and perform all of the safety instructions and to be able to assume the hazards inherent with the Bird One.

Comply with local laws and regulations when riding this product. Do not ride where prohibited by local law.

Do not ride in the snow, in the rain, or on roads which are wet, muddy, icy, or that are slippery for any reason. Do not ride over obstacles. Doing so could result in loss of balance or traction and could cause a fall. Whenever you ride your vehicle you risk injury or death from loss of control, collisions, and falls. Be sure to read the User Manual.

When braking rapidly you risk serious injury due to loss of traction and falls. Watch your speed when traveling downhill. For best results in stopping and deceleration, always use the stomp brake in conjunction with the left handlebar brake. Left handlebar brake should not be used alone to stop at high speeds or when traveling downhill.

Ride safely to avoid falls or collisions.

Do not use the Bird One for racing, stunt riding, or other maneuvers, which may cause loss of control, or may cause uncontrolled operator actions.

Avoid contact with moving parts. Ensure hands, feet, hair, clothing, and other body parts stay clear of moving parts like the motor or rear wheel.

ALWAYS keep both hands on the handlebar when riding.

DO NOT exceed the maximum weight: 220.0 lb (99.8 kg).

DO NOT ride the scooter in the rain or on wet ground.

DO NOT ride over speed bumps, thresholds, or other bumps at high speed.

DO NOT press the throttle when walking with the scooter.

DO NOT ride on sidewalks, motorways, or highways.

DO NOT rotate the handlebars suddenly while driving at high speeds.

DO NOT ride with more than one rider.

DO NOT ride up and down stairs.

DO NOT jump over obstacles.
Electrical Warning:
DO NOT attempt to disassemble the battery. This is a fire risk.
Never modify the electrical system as this may result in a risk of electric shock, electrocution, or fire.

To prevent electric shock, do not immerse the charger or battery in water when cleaning. To clean, remove the charger plug from the outlet and wipe with a dry cloth.

Only use the charger specified by the manufacturer.

Only store is dry areas. Never store in wet conditions.
Disclosure for Users in California
YOUR INSURANCE POLICIES MAY NOT PROVIDE COVERAGE FOR ACCIDENTS INVOLVING THE USE OF THIS SCOOTER. TO DETERMINE IF COVERAGE IS PROVIDED, YOU SHOULD CONTACT YOUR INSURANCE COMPANY OR AGENT. YOU MAY NOT MODIFY OR ALTER THE EXHAUST SYSTEM OF THIS SCOOTER TO CAUSE IT TO AMPLIFY OR CREATE EXCESSIVE NOISE PER VEHICLE CODE SECTION 21226, OR TO FAIL TO MEET APPLICABLE EMISSION REQUIREMENTS PER VEHICLE CODE 27156.
Have Fun!
Enjoy your ride and please reach out to us at hello@bird.co if you have any questions! And feel free to share your Bird moments with us--we'd love to see them!

Bird Rides
406 Broadway Avenue #369
Santa Monica, CA 90401
www.bird.co